A barn conversion in an extraordinary rural location is a dream for many people. But embarking on a barn conversion project is not for the faint-hearted. A successful barn conversion relies on a unique mix of creative and strategic thinking. But when you get this mix of creativity and strategy right, it is breathtakingly rewarding.
The Creativity of Barn Conversions
A barn is a found building – one that has been sitting in its landscape for years, if not centuries. When you have purchased it for conversion, it is because you love its location, its character and have a vision for living in its surroundings.
Therefore the key to a successful barn conversion is in creating a project that resonates with its location, conserves the character of the barn and provides a space that meets the demands of your daily life.
Such projects are challenging, exciting and rewarding and, when complete, balance all these requirements beautifully and effectively. It means as you live there, you are part of the barn's history and in harmony with the site and the landscape.
For this reason, the first step is an assessment of 'place'. We ask: what is special about this barn? Barns are rooted in their settings and often built using the materials that are found in the landscape. They can often be situated near a water source and offer extraordinary views. We seek to understand how the barn is part of its landscape and explore ideas of how to make the most of this as part of the project.
We then work closely with you to establish your needs, want and desires in relation to your home. We investigate the choreography of your every day life. We ask: where will you enter the building? Where are the public and private spaces? Where will you eat, sleep, cook, rest and work?
We can then bring all of these together. We look at the barn and consider where the views are and where the sun rises and sets. We can then overlay your requirements to these considerations. By mapping your daily routine to the barn we can ensure that your activities follow the movement of the sun through the barn. In this way, the needs of the barn, its site and you can be brought together in a single coherent whole.
Throughout this process, we need to consider how to balance the old and the new. How can we use modern materials against the barn's palette of beautiful aged materials? How can we introduce light sensitively and practically?
In one award-winning listed barn conversion, our scheme retained the integrity of the existing fabric and structure but also accommodated new and unique spaces. For example, because the barn was originally positioned on the site because there was a stream and therefore a source of water, the bathroom is made out of stone to recreate the original experience of stone and water.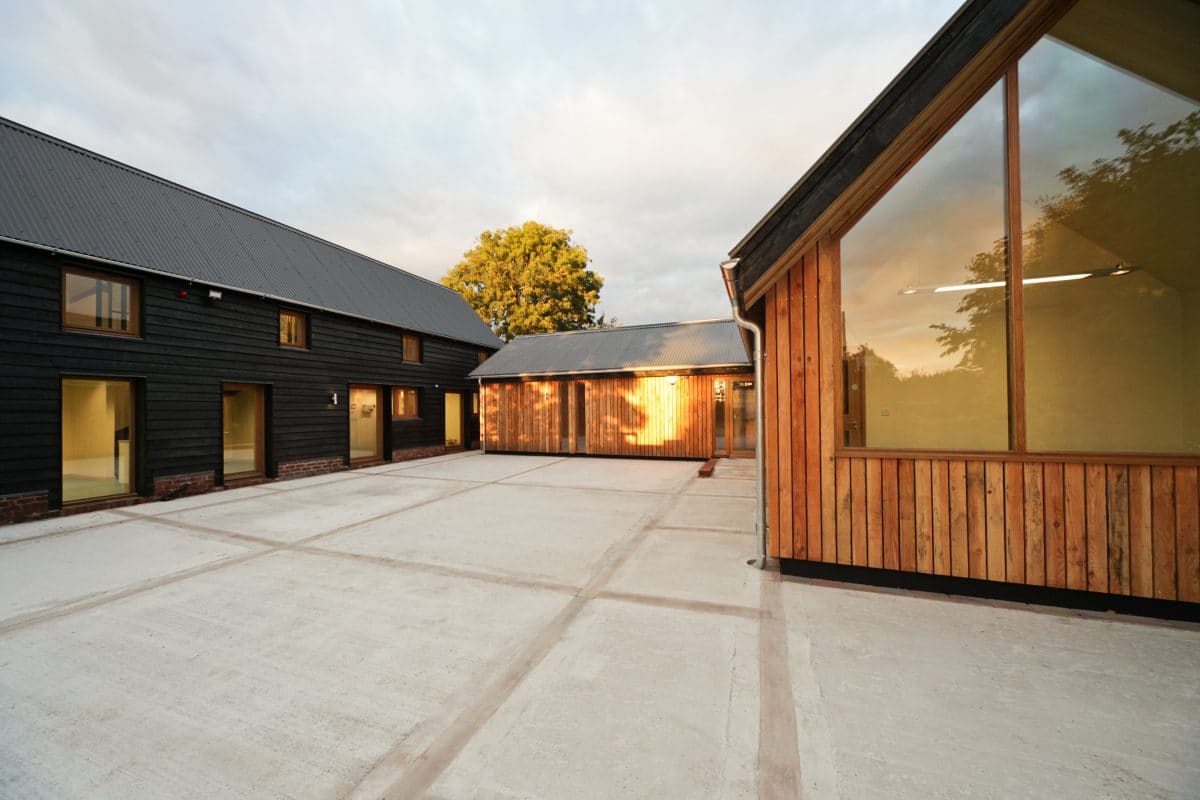 In this barn conversion project for a commercial premises, the new building we designed was a sensitively scaled, single storey development that was subservient to the historic barn. The design reflected the agricultural nature of the surroundings and the character of the existing barn. The pitch of the new building's roof exactly matched the existing barn and was covered with corrugated steel while the walls are timber boarded to reference both the historic barn on the site as well as more contemporary agricultural barns found locally.
The Strategy of Barn Conversions
Converting a barn is one of the very few exceptions to the rule that building a new home in the countryside is unlikely to be allowed. As a consequence, there is a myriad of regulations around barn conversions. To add further complication, the way the national laws are interpreted may differ between local planning authorities.
It means plotting a course through the legislation and securing permission for a barn conversion is a complex process, which is why we recommend working from the outset with a planning consultant who understands the legislation and the way it is interpreted.
Our first step when looking at permission to undertake a barn conversion is always to work with a planning consultant to assess all the evidence to enable us to plan a strategy that maximises our chances of success. We do this because getting the strategy right from the beginning is essential. If you get it wrong, there is a chance you may not get permission for a barn conversion that you would have got if you had taken a different approach. The worst case scenario is that the opportunity is lost forever. Even if it isn't, the time and costs wasted following a misguided approach are often significant.
There are undeniable complexities around securing permission for a barn conversion, but at a very basic level there are essentially two paths you can take. One is securing permission using Class Q of permitted development rights. The second is obtaining planning permission. However in reality, they are not separate paths. Typically, even on the most straightforward of cases, we refer to both Class Q and local planning rules to pull together a strong case.
In Worcestershire, we worked with David Keyte on a project for the Netherwood Estate. The Estate had a courtyard barn and farmhouse it was keen to turn into assets that would support its aims. After assessing the options it was agreed the most suitable option was the creation of a fine dining restaurant in the barn together with office and training facilities in the farmhouse that could add value to the local community. However, to realise this vision properly, additional buildings would need to be constructed. We had complex discussions with the local authority to show that, even though we were constructing new buildings, they would be sympathetic to their surroundings and deliver significant economic value for the county. We eventually secured permission and have created an exceptional space.
In another example, we again partnered with David Keyte to work with two daughters who had inherited their father's farm. The farm had two barns on it – one traditional, stone-built barn and one steel-framed barn. They sought our help in securing planning permission to convert the traditional barn. We also advised they would be able to secure permission to convert the steel-framed barn under Class Q. We were able to secure permission to convert both barns. Both daughters were delighted because we had helped them do what their father would have wanted – make the most of the inheritance they had.
Read More
Undertaking a Barn Conversion
The creativity and strategy of a barn conversion are the core elements of Stage One and Stage Two of our project process.
Stage Three is where all the plans come to life and the conversion and building work starts. Here, we work with you for both creative and practical purposes. From a creative point of view, we inspect the on-site works regularly so we can ensure quality and agree design details – very often it is the tiniest details that elevate a project to the extraordinary.
From a practical perspective, we manage contractual matters, take responsibility for your health and safety legal duties on site, provide financial reports and advise you on payments to your contractor. We are also on-hand to resolve any site issues.
The end result is a beautiful building that understands the essential nature of the original barn and its setting as well as your needs. In other words we can create a successful barn conversion.
"The quality of the finish and confidence of approach really stood out and the [judges] felt the project team had shown respect for the history and setting of the building."

Jury's citation, 2011 Local Authority Building Control Regional Award for Best Conversion or Extension
See Examples of Our Barn Conversion Projects
Frequently Asked Questions on Barn Conversions
Undertaking a barn conversion is a complex – but incredibly rewarding – project. Understandably, many people have lots of questions about the process. We've put together answers to the most frequently asked questions we hear on barn conversions to help you understand a little more about what's involved.
Still in the ideas phase?
Download our quick start pack to help you work with an architect and design, plan and manage a successful build
Let us know a few details and we will be in touch as soon as we can with how we can help you with your project