Building projects are almost infamous for going over budget. It's why, once you've decided to embark on a building project, one of your biggest concerns is likely to be how you are going to stick to your budget.
In many cases, a project goes over budget because the careful process of working out the likely final cost of the project has not been done. But costs are brutally honest. When people embark on a project where the costing has not been done thoroughly, it will be discovered when it gets to site. By then, of course, it is too late.
When we are talking to our clients about budget, here is the advice we offer.
The biggest opportunities to control costs and save money come at the beginning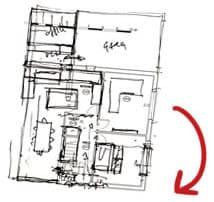 When it comes to building projects, you'll make the big financial investments towards the end of the process when your building is being constructed.
But when it comes to saving money, the biggest opportunities come at the beginning.
The reason for this is simple. You decide how much space you want to build at the start of the project and the cost of your project is in direct proportion to the amount of space you are building. Build more space than you need and you've wasted money before you even get to the build stage.
From the very first meeting with you in Stage One of our process, there are three things we like to understand.
your vision of space
your vision of timescale
your vision of budget.
When we understand your vision of space, timescale and budget, we can relate them to other projects of a similar scale and give you an idea of likely cost.
If there is a mismatch between your vision and your budget, we can work with you to look at your requirements in a different way.
As a rule, we find that people tend to underestimate how much construction costs. Interestingly, they also overestimate how much extra space they need. As a general rule, reconfiguring existing space costs half the price of building new space. Careful and intelligent design that makes more effective use of the space you already have before adding extra space often offers a way to balance vision and budget.
"Pragmatic with particular regard to design and budget restrictions and solutions to construction difficulties."
Roger Darby, Gwillam Darby Carr, quantity surveyors
We are passionate about the importance of getting these big decisions right. Right from the start of your project we work closely with you to understand your needs, wants and desires. It means that the space we design is exactly the right size, delivers maximum value and saves you money at the build stage.
"Communion kept within budget and understood that we couldn't come up with more money."
Communion client
Getting the details right is vital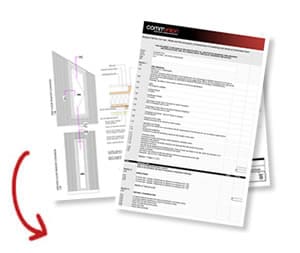 Once the basic design has been agreed, the next step is to look at it in detail. We do this at Stage Two of our process.
Careful planning and drawings save expensive experiments on-site. To adapt a common maxim, plan twice, build once.
"Compromises that had to be made due to design/cost etc were clearly discussed with us and this was so helpful in terms of us being realistic about what it is we could achieve. However, design was not compromised when there were compromises to be made."
Communion client
Once we have detailed the design, we create a shopping list for the project and put it out to tender.
We typically find that tenders can differ by up to 25% and 40% of the project cost, so it pays to ask multiple contractors to quote to ensure you're getting the best price. The price received back forms the basis of the contract with your builder and makes it much easier to manage costs once you're at the build stage too.
The details we put together for the tender also help focus everyone on what is important in the project. When we can see exactly how much each element will cost relative to everything else, we can evaluate the value it's providing and make mindful decisions about its inclusion.
This approach is particularly useful when it comes to the final finishes because you can see them in the context of the overall project. For example, you might think you could look to save money on your project by choosing a budget carpet rather than an engineered timber floor but the difference in cost when you see it as part of the whole project is relatively small. On the other hand, the enjoyment you'll get from walking across a real wood floor every day will more than make up for the additional cost.
Managing costs on site
When we are managing a project in Stage Three of our process we keep a close eye on the costs on site. The tender process we undertook at Stage Two helps us here, because it has attached a cost to every item involved in the build. This makes it easier to see the precise cost of the build as it progresses. The expertise of a quantity surveyor is also invaluable. When changes happen on site, as they inevitably do, we typically find that while the cost of one item in the schedule increases another cost elsewhere is likely to decrease as a result. A quantity surveyor will identify this and ensure the relevant costs are increased and decreased as appropriate to keep the budget on track.
No matter how careful we have been in the planning and preparation, unforeseen circumstances are inevitable. You can divide these unforeseen circumstances into two types.
The known unknowns are the things we know about but won't know about in enough detail until we get to them on site. The unknown unknowns are the things nobody could have foreseen.
We attach a provisional price to the known unknowns so they are accounted for in the project budget. The project contingency is there to cover the unknown unknowns.
While it is important to keep an eye on build costs, it is worth remembering that when you reach this stage there are generally only relatively small decisions to make and they will only have a limited effect on your budget.
For example, changing the specification of your paint during the decorating stage could have a big impact on the finished result, but it won't have a big impact on the overall budget.
By following our five stage process, the vast majority of our projects come in at or below their budget. Where a project has cost more, it's typically because additional work has been requested by the client because it made sense to do so. For example, if the client had planned to landscape the garden at a future date, they might decide to start the work while there is a digger on site rather than bringing it in again another time. Because we have kept the client up-to-date and involved throughout the lifetime of their project, they feel in control of the process and are able to make cost-effective decisions such as this.
Balance your budget and create your dream
Creating a project that works to an agreed budget is the real skill of an architect and the team of experts around them.
The work we put in at Stage One and Stage Two accounts for around 10% of your total budget but will control 90% of it when we reach Stage Three. It's why it makes sense to put so much thought into the early stages of a project.
It is also worth remembering that the careful planning that's done in the early stages not only helps control costs, it also contributes to an end result that adds value in more ways than one.
"We really looked forward to the build being finished and enjoying the house. What we didn't realise was that we'd enjoy it quite as much as we do. One of the things that's very important to both of us is a house that allows you live the way you want to live and this house really lends itself to social living. We do a lot of entertaining and it really is a very functional house and it flows. We're more than delighted with what we've got and we very much feel that it's a house that's unique to us."
Communion client