Architecture is typically considered to be about creating new spaces. What's interesting is that the reality of much of our work doesn't involve creating new spaces at all. Instead, it involves adapting existing spaces so they better meet the needs of our clients.
It's also worth considering that a building will cost three times as much to adapt, upgrade, maintain and manage over its lifetime as it cost to build. Then there is the more pressing issue of the sustainability of buildings. We need to think carefully about the carbon footprint of the house over its lifetime. This includes the materials we use in construction (the embodied carbon), the energy it will use while it's in use, and the carbon cost of its disposal at the end of its life. All other things being equal, a smaller building will have a smaller carbon footprint.
It's why we always look at how we can make the best use of existing space before we add new space. In fact, much of our work involves taking away things, not adding them. Here are a few of the ways that we might look to do this.
Taking away a wall to reveal a view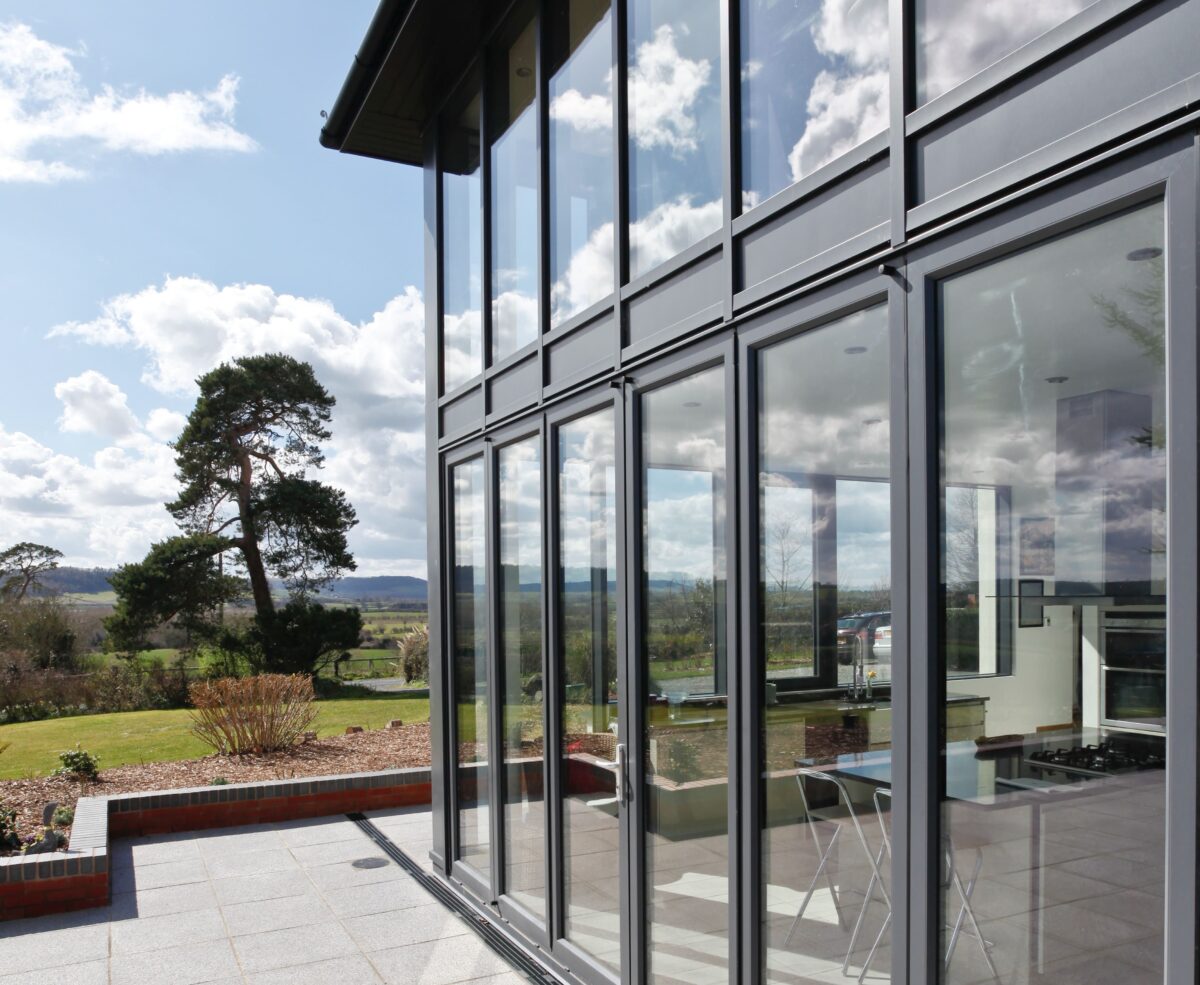 Many of our projects sit on site with beautiful views, but strangely the buildings don't take advantage of these. We often remove an external wall and replace it with a window or a glazed door. In this simple way, the view can become part of the space and transform an interior. This project is a perfect example of this.
Taking away clutter to reveal a space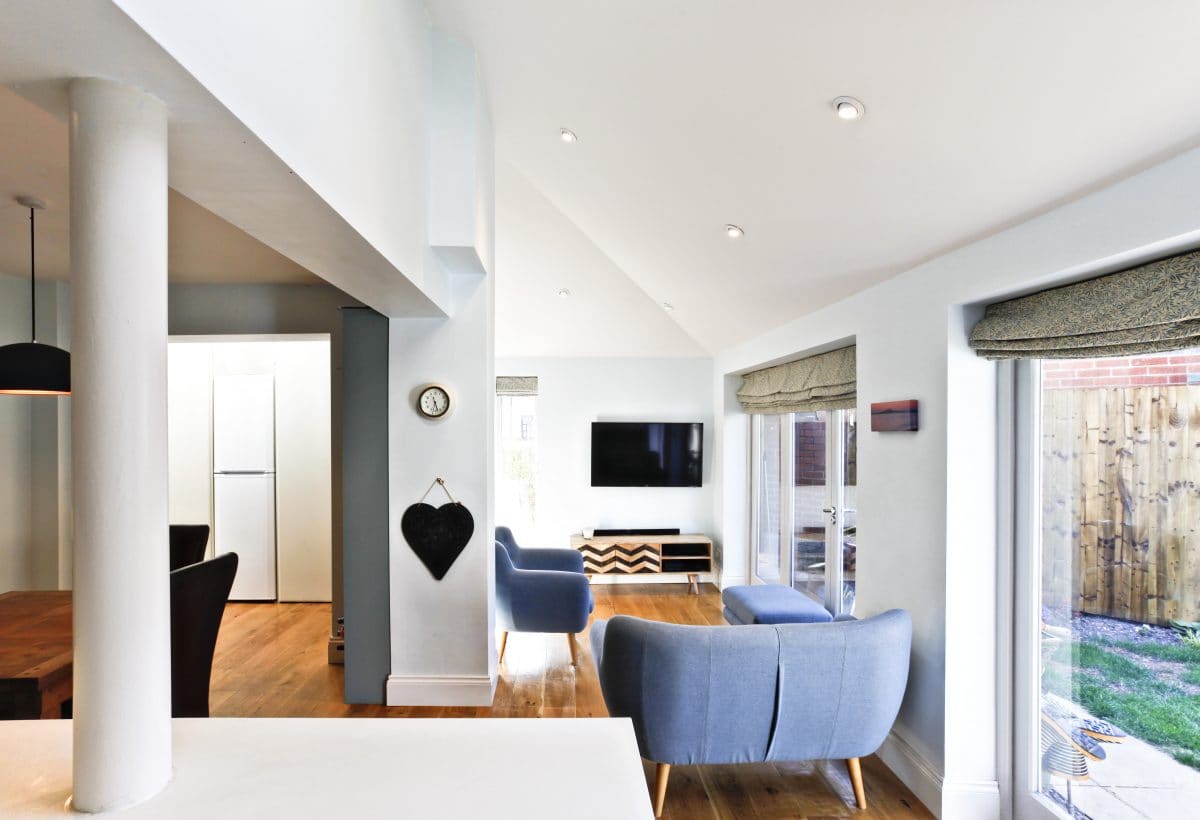 Over time and often when a space doesn't quite work, clutter builds up around it in an attempt to solve day to day issues – bin stores, garages, kennels and sheds, for example
While these help to make a space more practical, they also make it less beautiful, not to mention reducing the space available
One project we worked on had a large shed in the garden. It took a large proportion of the available space on site, blocked the views and stole the light.
We removed the shed and it immediately made a dramatic difference. It allowed us to extend the house and increase the space around it. This made day to day access so much easier. Internally it improved the daylight levels for the new extension and allowed views into a much improved garden which was then accessed directly from the new kitchen.
Taking away walls to create larger spaces
Internally, we look to see if we can change the experience of a space. One of the most impactful changes we can make is to remove internal walls. By taking down the wall between the kitchen and the dining room, we can create an open-plan kitchen dining area.
Immediately, we're creating a larger space. Our experience of the space, however, is even more transformative than this simple act might suggest.
Firstly, the wall itself takes up space, so, at the very least, you're buying yourself an extra wall's worth of space!
Then, two rooms need at least two doors. Each door needs at least a square metre in which to swing open. This is space that can't be used for anything else. When you have one room you only need a single access, you also reduce the amount of circulation space you need and make a more efficient use of space.
Then consider the experience of light in the space. One room typically has one window. When you combine two rooms, you have two windows serving one room. Often, they'll have different aspects, so you'll gain more variation of light in the space, new views and create a completely different atmosphere.
Taken together you have created a much larger, lighter, more efficient, effective and dramatic space to enjoy.
Removing ceilings to lift a space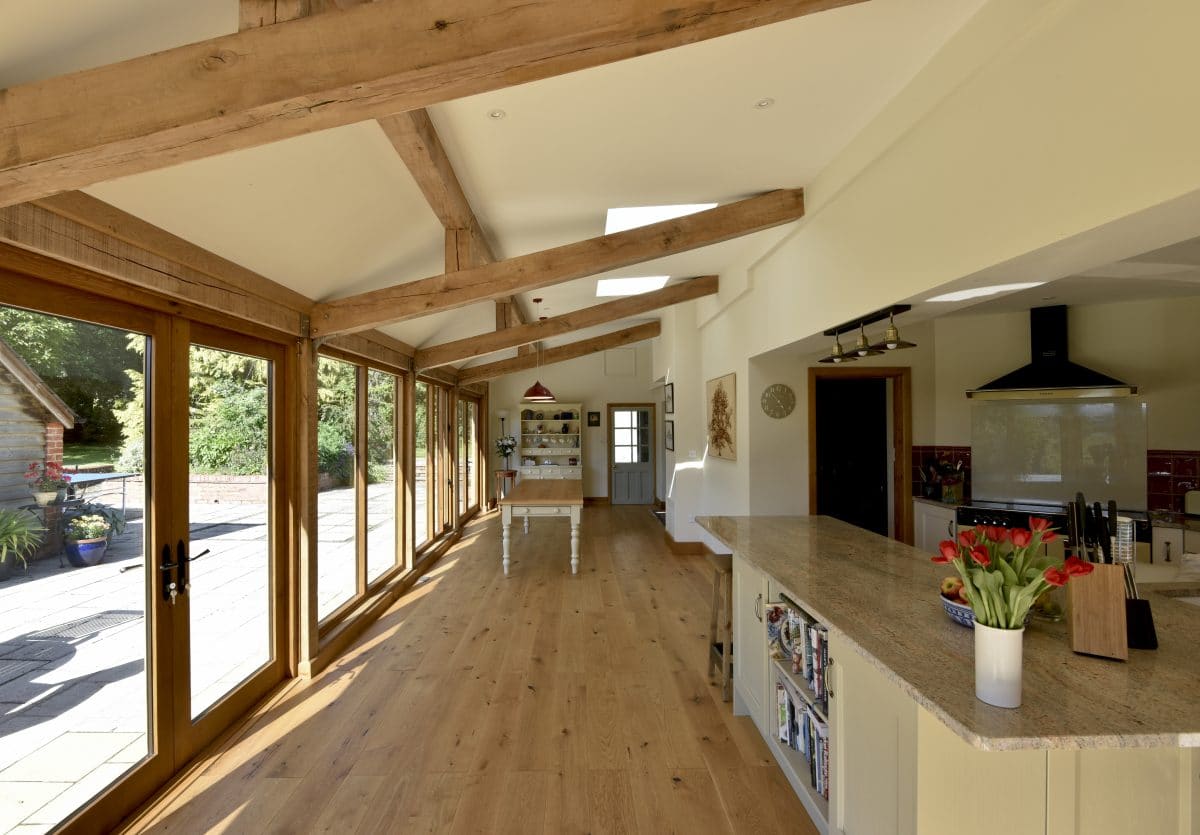 Georgian houses don't typically have a larger footprint than homes from other eras. However, because they typically have higher ceilings, they feel grander, airier and more delightful to be in. Similarly, grand spaces such as palaces and public buildings have high ceilings that allow us to stand taller and breathe deeper. In contrast, small, dark spaces with low ceilings create very different experiences. When society wants to punish, it confines people to small, dark and cramped cells.
Another way to change our experience of a space is to remove ceilings. We did this in this project. The original space was divided into a series of small spaces. Not only did we remove the internal walls to create one amazing space we also removed the ceiling and created a new oak structure to hold the existing roof up. Together with roof lights, this helped to create a light, bright, airy space. On this project, we didn't need to add any new space – we created everything we needed from the existing space through a combination of removing internal and external walls combined with removing the low flat ceiling and incorporating the existing but formally useless loft space part of one beautiful light filled high space.
Removing floors to create drama
As well as removing ceilings, we can also sometimes remove floors.
In this Cotswold cottage, we took away the first and second floors in the middle of the staircase. This instantly created a three-storey space.
We also added a roof light at the top of the house so the space was always filled with beautiful ever-changing daylight. The floor space of the hall was perhaps less than three metres square, however it was over seven metres high! This meant that as soon as you entered the house, the space soared. This was an uplifting and expansive experience.
This is perhaps an uncommon experience when one enters many small houses.
Creating bigger openings to create bigger spaces
In the past, glass was a luxury item that afforded very little insulation. For those reasons, its use was limited and windows in older houses tend to be small. Today technology has made large expanses of double or triple glazing available at a cost that's comparable with other materials. It's for this reason we will often create glazed walls, as we did in this project.
This gives beautiful views, connecting the inside and outside and creating a much more enjoyable space. It also offers a space that's much lighter and brighter. Daylight also changes in colour throughout the day from the cool of the morning to the warmth of the evening sun. These glazed walls open onto the garden, ensuring a constant invitation to step through the glass veil to enjoy the outdoor world which brings all of us so much life and health.
Using architectural thinking to re-imagine your house
When considering carrying out work to your home, it's easy to think that a simple extension may give you what you want and need. However, in our experience, this can often take more than it gives. In many cases it can just create another small space that robs the joy from a previous space which is now darker and less useful than it once was.
If you can create what you need without building, there are huge cost savings both initially and in the long term. Indeed, this careful use of existing space is what makes many of our smaller projects feasible with the budget available. We deliver beautiful, light-filled, functional spaces that connect and transform people's relationships to their homes and gardens. They also add significant value to our clients' lives and to their homes overall.
To achieve the very best spaces it is vital that you plan carefully at the start of a project.
Taking away building elements before you add new ones can be an intriguing way to help create a successful project that gives you what you really need, and that costs less both financially and in terms of conserving the world's precious and finite resources.