I have been fortunate enough to be the lead architect on numerous church re-ordering projects. As part of those projects I have seen first hand that there are three elements it is critical to get right if you are to make a success of a church re-ordering project.
This piece was originally written for a resource kit developed by Hereford Diocese and due for publication in November 2017 called Crossing the Threshold: a community development approach to the use of church buildings toolkit. The toolkit is an updated version of a publication originally published in 2005 and updated in 2013 – you can download the current version here.
Develop and hold a vision of what your church needs
To gather consensus from the very earliest stages of your project, it can help to start by simply asking: what place do we want our church to have in our community over the next 25 years? Once you have this overarching vision of what the role and vision is for your church in your community, you can then consider how the building needs to respond in order to achieve it. You also have the tools to start to think about your statements of Significance and Needs.
Commit to communication throughout the lifetime of the project
The success of the church re-ordering project will depend on your ability to communicate the shared vision with energy and enthusiasm. Your architect will be able to run workshops and presentations that communicate your plans to groups, funders and partners. However, time and again, it's the one-to-one conversations that you have with members of your local community that will be vital in selling the message and the vision day by day.
Ensure the financial sustainability of your building
Funding bodies may be able to support the project with funds to carry out the re-ordering project if they support the shared vision and robust and sustainable plans to achieve it. However, it is your responsibility to ensure those plans are put into action and that you achieve long-term financial sustainability. This is something that will require an ongoing commitment of energy and enthusiasm that reaches far beyond the process of re-ordering itself.
Understanding these three principles in practice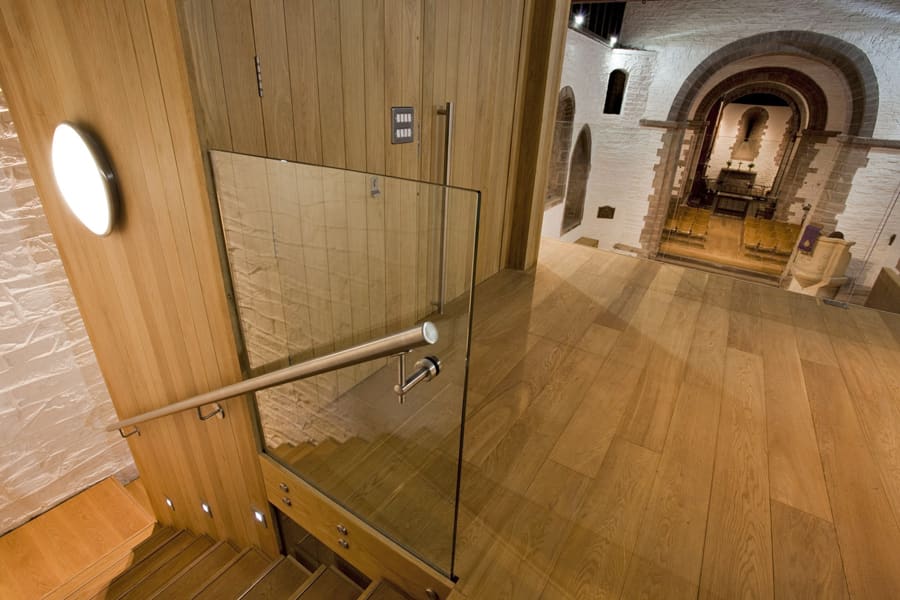 St Peter's Church is situated at the centre of Peterchurch, Herefordshire, a rural community with a population of approximately 800 people.
The church building is an unaisled, four cell church dating from the 12th century which was heavily restored in the Victorian period.
Although structurally the majority of the building was in a reasonable state of repair, the lack of viable space, light, heat and power and basic facilities such as WCs or a kitchen meant it had limited use.
The story of the re-ordering of St Peter's illustrates the importance of all three points outlined above.
The Revd Simon Lockett's vision for the building was underpinned by two beliefs. The first is that the Church should be there for the community. The second is that the Church should work for justice. He felt his community faced an injustice because it didn't have access to the local services that were needed. By re-ordering the building to create a suitable space it would be fulfilling its place in its community and correcting this injustice.
After careful discussion, the PCC entered into a partnership with Herefordshire Council that allowed the church to be re-ordered to create a sustainable, multi-use community building and we worked with the multiple stakeholders to develop a solution that provided all the facilities needed while changing as little as possible about the existing building.
The Revd Lockett's energy and approach was and is central to the success of the project. Whenever he encountered dissent during the re-ordering process he was able to share his vision and create another project champion. He was instrumental in securing a partnership with Herefordshire Council to deliver Sure Start services from the building and in gaining the funds needed. Similarly, when funding for Sure Start ended, he had the energy to re-envisage the project and ensure its continued viability.
Today, The Hub at St Peter's is an overwhelming success. It has a hugely popular lending library. There are weekly activities such as yoga classes, a community choir and a baby and toddler group. There is also a community café and a staffed information point. Above all, the church is continuing to be used as a place of worship for midweek and Sunday services.