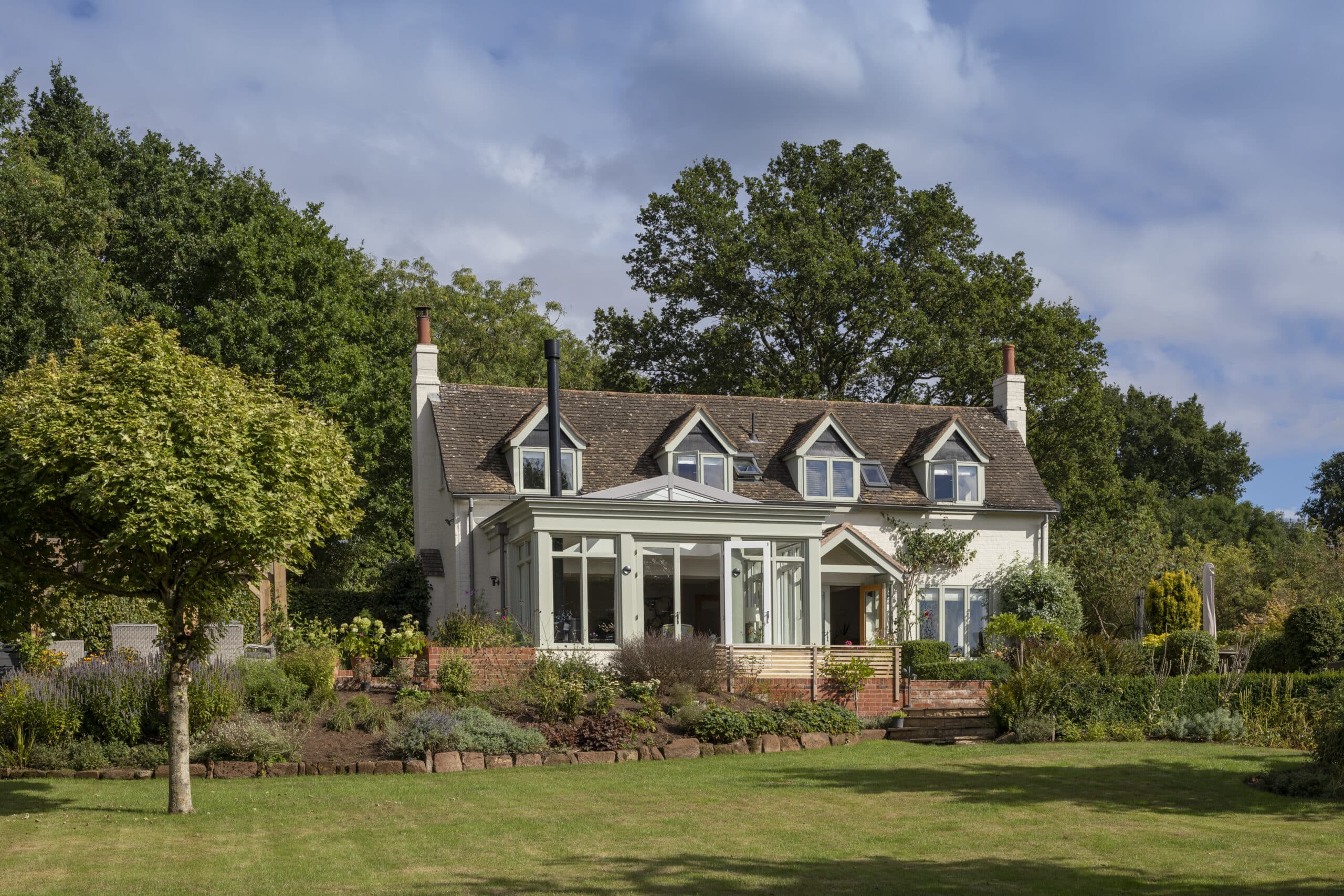 The Brief
Steve and Liz's home is a charming nineteenth century cottage set in the beautiful Worcestershire countryside. The couple had lived there for many years and raised their family there. Now, with their grown-up children living elsewhere and with families of their own, Steve and Liz were considering whether to continue living in the cottage or to move on.
They knew that they loved their home very much. However, it lacked a large family space where they could welcome children and grandchildren all at once. Creating this space in the cottage would give them what they needed to spend many more happy years there.
At the same time, they were conscious that it did not make sense to create a space that only came into its own once or twice a year. They started to envisage a two storey extension to their home that would give them additional space downstairs and a reworked layout upstairs.
"We wanted the bigger room, but then we thought it would be quite nice to do something in the bedroom and to update the bathroom and ensuite. We could see a two storey wing coming off the existing cottage and we thought that was how we wanted the house to look."
Liz
They chose to work with Communion Architects to realise their ideas for their home.
The Design Solution
Taking Steve and Liz's vision, we developed drawings for a two storey extension. The couple loved the drawings but realised that, although the designs were what they asked for, they weren't what was required.
"Alex did all these beautiful plans – but when we saw them we realised they weren't what we wanted. I did worry about telling Alex this, but he said if we weren't comfortable with it, we were right not to go ahead."
Liz
Sometimes the design journey involves re-evaluation, which often requires going back to first principles. Steve and Liz simply wanted a space that was large enough to entertain their extended family – very little more was needed. To create this space, we drew up plans for a single storey orangery extension with a lantern roof.
This solution would give them the really beautiful, light-filled space they wanted and also provide improved access to their garden, which had always felt disconnected from the house.
Since work was being planned, it made sense to Steve and Liz to look at how we could enhance a few other areas of the house at the same time.
They were keen to still improve the en suite to the principal bedroom. Initially, we considered the option of a small dormer extension. However, this was felt to be disruptive to the roofline of the cottage. In the end, a simple curved plan allowed for a larger en suite without compromising the space of the room. Liz had seen photos of a similar en suite in a previous project of ours and was excited to incorporate the same ideas as part of their scheme.
We replaced all the windows on the garden elevation to improve insulation, create a consistent exterior aesthetic and enhance views into their garden and beyond.
We also suggested rethinking the existing layout of downpipes with a more streamlined internal solution.
As usual in older properties, parts of the cottage were hard to keep warm in winter. Steve and Liz were especially concerned about the new space, which would be an extension of a room that was particularly cold. To ensure this would not be an issue, we proposed additional levels of insulation to the house and engaged a heating engineer to ensure consistent, controllable heating to the whole house could be achieved. Not only would this make the house more comfortable, it would also enhance its thermal efficiency in line with the first strategy in our Sustainability & Energy Creed.
To bring these proposals to life we created a 3D visualisation of the project, which Steve and Liz found very helpful, especially when making key design decisions.
"The fly-through brought it to life. We could zoom in and have a look at the detail. We could also see for the first time what it would look like inside and outside. We could see how the spaces would change as the sun changed direction. I don't know how we would ever have envisioned that without having the animation. It really worked well."
Steve
Planning permission was required for the project and we worked closely with Worcestershire County Council to ensure it was secured. An ecology survey was also undertaken, which recommended a few precautionary measures to ensure that no protected species would be affected by the works.
Steve and Liz were very hands on throughout Stage One and Two of our process. Both felt it was important since they were seeking to create a home where they planned to spend many more years.
"We did spend time together looking at the plans. We recognised Alex was the expert, but at the same time, we knew it was our project and we had to make sure we were happy with it because we were going to be the ones living here."
Steve
The Build Process
The project took eight months to complete and the couple lived on site throughout. They acknowledge it could have been hard but appreciated the care the contractors took.
"To have somebody turning up at 7:25 in the morning every day for eight months could get wearing, I would think. But actually, it wasn't a problem. They blocked off half the house so we had half the house to live in and they had the other half to work on. But even when they opened it up, we were very comfortable to have them here every day."
Steve
As they had been before, Steve and Liz continued to be very hands-on throughout the build process to ensure they would have a project that delighted them.
"When the guys had finished in the evening, we'd have a walk around and compare it to the plan. I think it was definitely worthwhile setting aside time to do that because it's only in the detail that you really end up getting exactly what you want. The last thing you want is to be disappointed because you didn't notice something."
Liz
It is normal during the build process for plans to be tweaked or added to. This project was no different. Perhaps the biggest addition was to work with a garden designer to help connect the house and landscape together visually as well as physically.
The Outcome
The finished result is a beautifully polished gem that is testament to the attention to detail of the building contractor as well as Steve and Liz.
The couple are delighted with the results. They have the family space they always wanted, and it connects beautifully with the garden which is so important for their day-to-day lives.
"I thoroughly enjoy it when the family are here, it works so well. And the garden design is the icing on the cake in a way I hadn't anticipated. The grandchildren run in and out of the garden in a way our own children never could, and we are enjoying it in a way we couldn't before."
Liz
Crucially, it is also a space that works when it is just the two of them.
"We're very comfortable in there, just the two of us. We go to sit in there every night and we almost feel our bodies relax when we go in. But at the same time we can get 10 people in if we want and we can have little kids running around. It's a clever mix."
Steve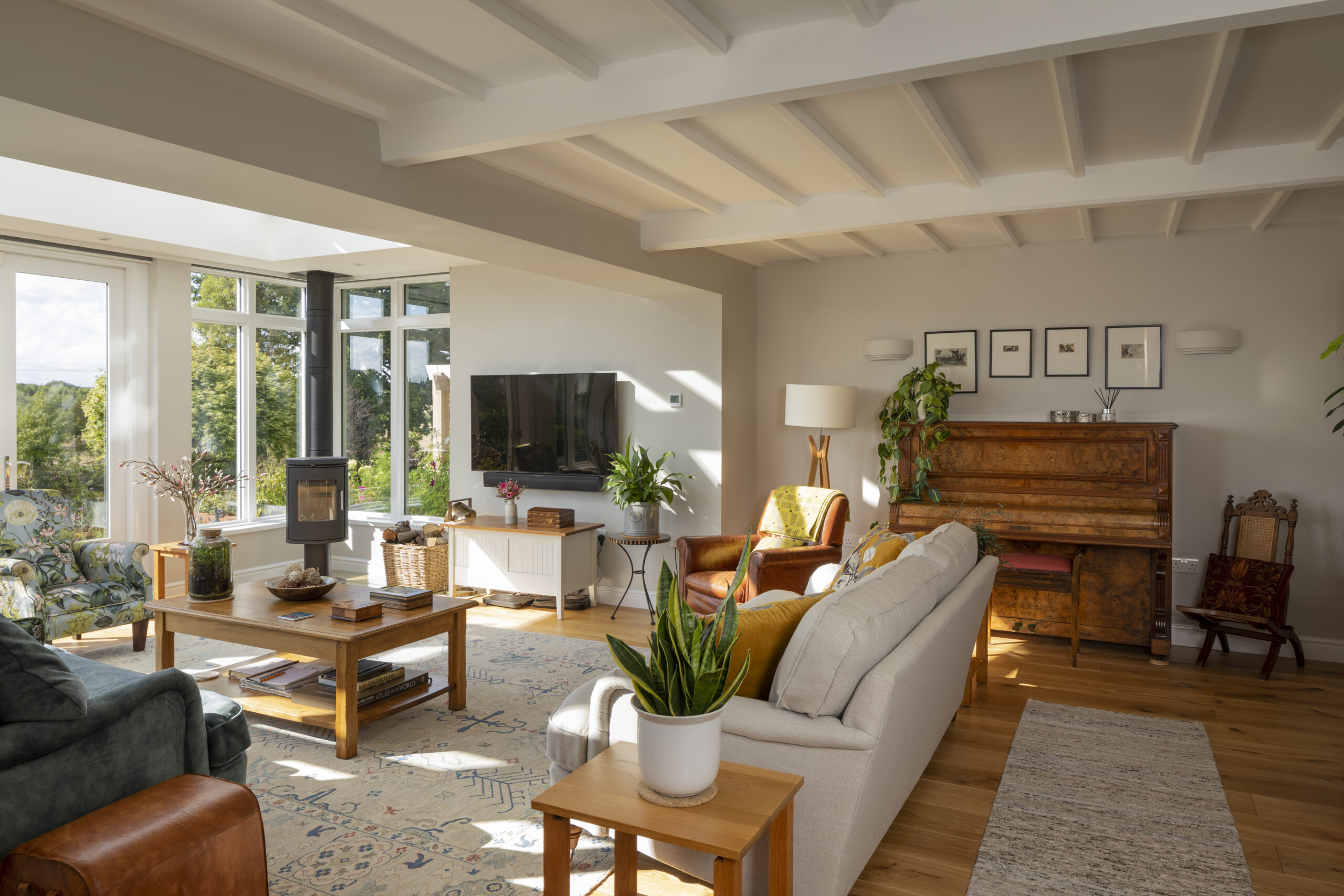 The additional insulation and the upgraded heating system, including underfloor heating in the new orangery has been successful and all the rooms feel comfortable all year round.
"We were concerned that once we made the room twice as big it would be even colder. But the new heating spur that covers our bedroom and the orangery, plus the insulation, has made a big difference. Before, you would always notice the cold. They're just rooms at just the right temperature now."
Steve
They love their new en suite shower room too, because it doesn't have a standard design.
"It's not just your run of the mill en suite, the curved wall is a bit more creative. Even though it's only us that ever sees it, we are delighted."
Liz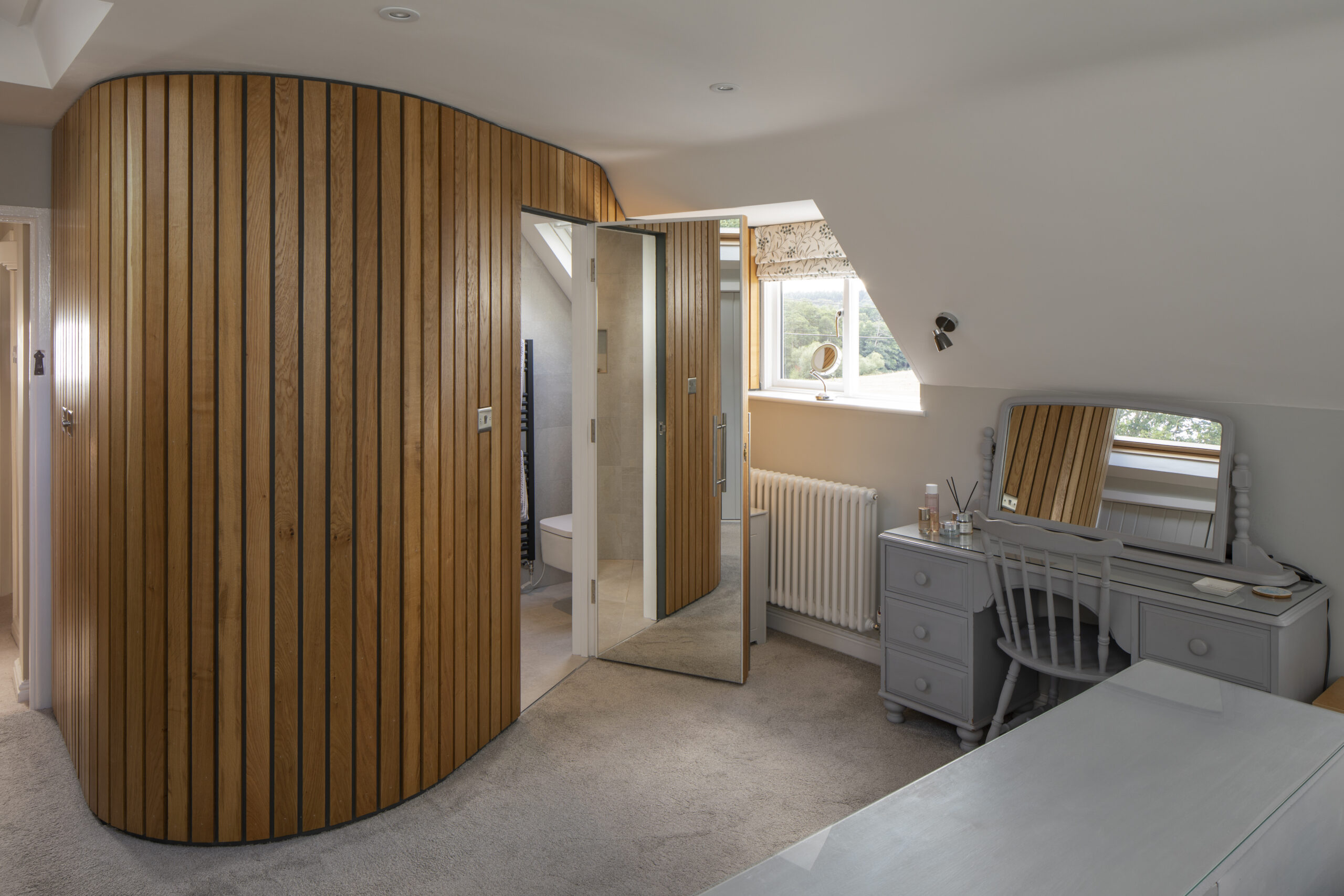 Steve and Liz are delighted with their finished project.
"… it really does give a wow factor to the house. People walk through and they just stand and look, they can't believe it."
Liz