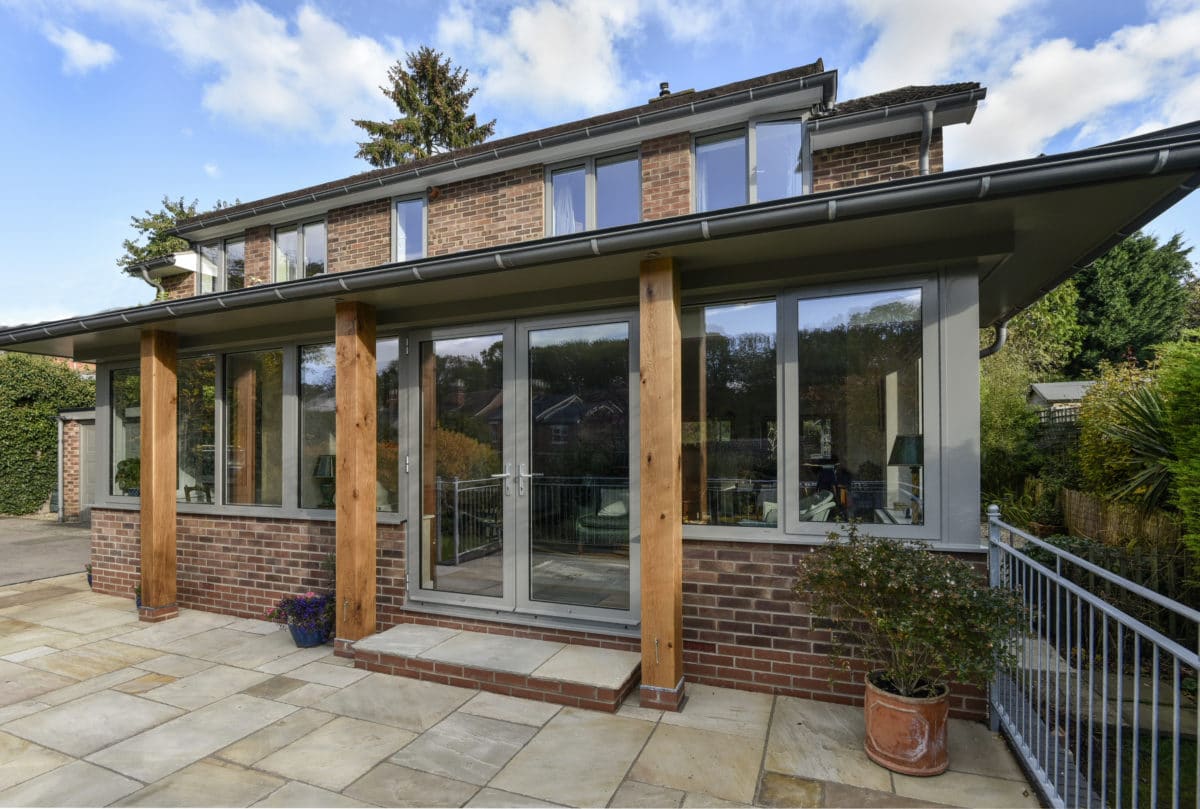 The Site
Our clients had enjoyed a rural lifestyle for many years but decided to relocate to a nearby market town so they could be closer to shops and local amenities as they grew older.
They found a 1970s house that gave them much of what they needed. It was a light, well-built home set in the middle of its plot with a garden that wrapped around it.
However, the front looked tired and dated, there was not as much space as they needed and they wanted to reconfigure the upstairs to create a principal bedroom and en suite bathroom at the front of the house.
The Brief
"We went to an architect rather than a builder, although it costs more, because we were changing the whole character of the front of the house. If you're confident doing that with a builder, then great, but we weren't, and we wanted the help of an architect to help with the pretty drastic changes we wanted."
Our clients invited us to discuss their requirements because they had seen and liked an extension we had designed for friends of theirs. Our first meeting took place soon after they first moved in and we discussed several options for creating new space and changing the façade. On advice, they decided to live in the space for a while before finalising exactly what was needed.
"We had some quite fancy ideas about building over the garage and things like that but Communion advised said that from a cost point of view it would be preferable to make better use of the existing space rather than building on. As we lived in the house we realised we weren't going to need as much space as we first thought and over the course of the first two or three meetings we were able to refine our plans to something a bit more realistic."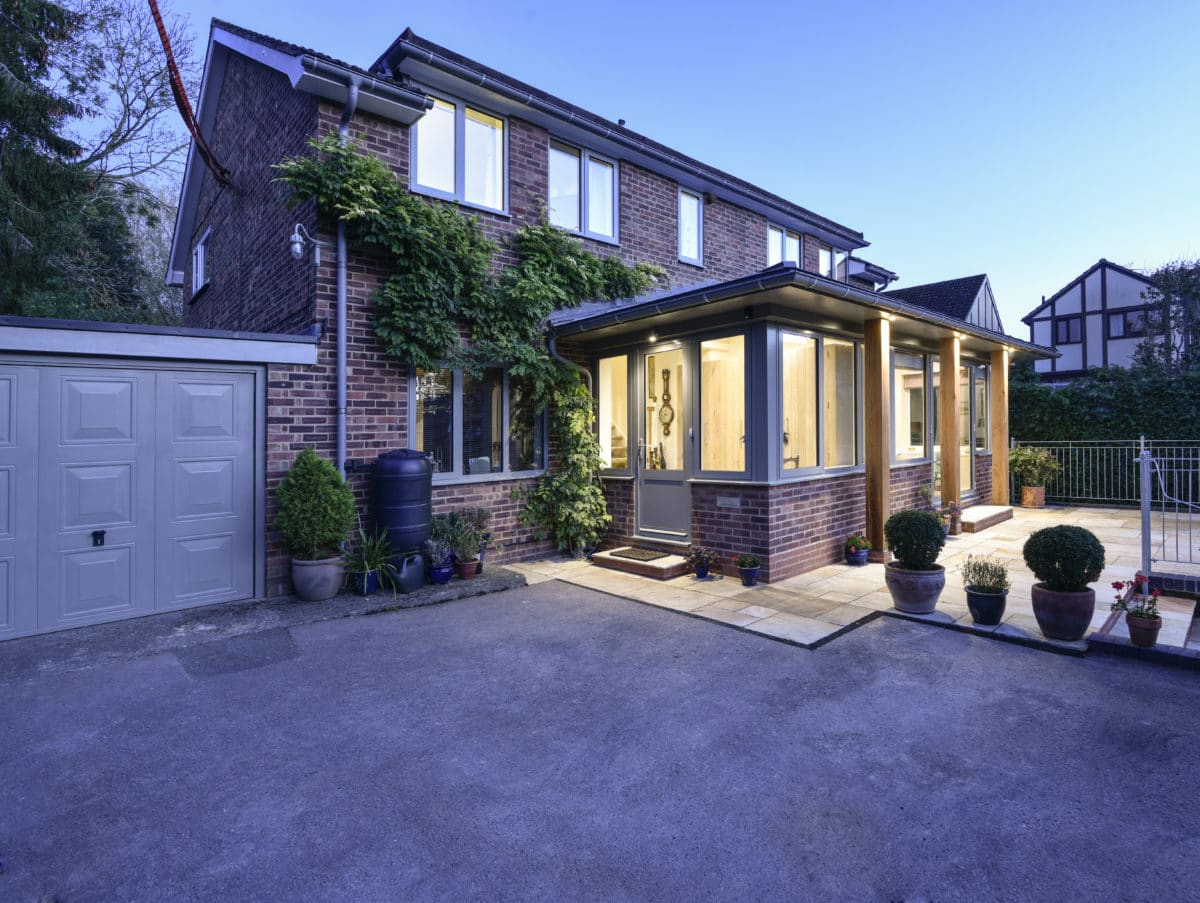 Stage One: Project Idealisation and Vision
Our design to reconfigure the front of the house and add more space involved adding a small extension with double doors that open out onto a west-facing terrace, which means our clients can enjoy their outside space in the evenings.
The extension has a zinc roof and zinc guttering, which updates the front façade and gives it a much more contemporary appearance. To echo the new roof material in the rest of the building, we replaced the existing guttering on the rest of the house with beautiful zinc guttering.
"Originally we were thinking about having a conservatory or garden room attached to the living room but Alex came up with the fantastic idea of incorporating the extension into main living space, which is part of his great vision for the complete use of a space."
Our clients were keen to add an en suite bathroom to one of the front bedrooms so this could become the principal bedroom. Our design reconfigures the upstairs space to achieve this.
"Communion came up with the brilliant idea of a curved wall for the new en suite instead of a straight one and we would never have come up with that idea. It's a small detail and harder to do but it just gives the room a certain flow and softness."
The changes to the house meant planning permission was needed. We applied for and secured this for our clients before moving to Stage Two of our process.
Stage Two: Detailed Design and Tendering
As always, we drew up tender documents that detailed every element of the work the project required. We submitted these documents to four building contractors to enable them to quote for the work. This process ensures we can secure the best market price for the work for our clients.
"We received two quotes, which were very close financially. We invited both firms to the property so we could meet them. Alex gave us the final choice, although he guided us with the pros and cons of each option. In the end we went for the slightly bigger firm who we felt would have easier access to more teams, more plumbers, more electricians and so on. I think we chose well because they were very good at communicating with us and Communion."
Stage Three: Delivery on Site
The build went very smoothly, although there were the inevitable challenges that occur when working with an existing property. In this case, the builders discovered the windows did not have lintels. Rectifying this – and other small matters – involved additional costs. However, because we had allowed a contingency fund as part of the budget, the problem was easily solved without impacting on other elements of the build.
Our clients lived on site throughout the building process because they wanted to have day-to-day contact with the builders and feel part of the project.
"Living on site is not for everyone but apart from the fact you save a lot of money, if you can tolerate the noise and disruption it is well worth doing. It meant we could have daily site meetings about little details, things they'd just have had to decide about while we weren't there. It all went very smoothly with the regular team of four builders and we got on extremely well."
The Outcome
Our clients are delighted with their newly reconfigured home. It gives them the space they need and means they can enjoy their retirement in a home they love.
"Living here lifts the spirits…

There's even more light and space than we had before and better lighting and a better outlook too. As soon as I come up the drive I think "wow" – and so do many visitors."